Here are some quick hints and tips from our support pros!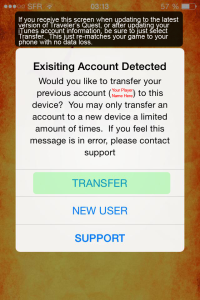 If you are looking for the community, please feel free to drop a note on our official Traveler's Quest Facebook Page or the Traveler's Quest Facebook community for fans of the game.
Answers to Frequently Asked Questions available.
Have you received a new device? Device upgrades are now handled automatically by Traveler's Quest…
Have you been sent to the gallows? Please read this before sending a support request: Avoid the Gallows
Traveler's Quest requires iOS 11 or greater, and players must update to game version 7.9 or greater to play.
NOTE: Traveler's Quest servers CANNOT send password reset confirmations to Hotmail or other Microsoft email addresses!
Backup your old device with iTunes or iCloud
Restore your new device with the backup you saved using iTunes or iCloud (NOTE: Some users have reported missing maps after restoring their backup from iCloud, please ensure that iCloud Backup has Traveler's Quest turned on!)
Open Traveler's Quest and answer the questions
Most devices will finish the update, and the game is available to play.
Did you receive a message asking you to contact us? Â If your account has been active in the last 6 months, just fill out the information in the form below and we will happily finish moving your account to your new device for you! Â If your account has not been active in the last 6 months, we will not be able to recover your account or treasures for you.
Traveler's Quest Legal Information: