Traveler's Quest by Kitty Code
[asl_name]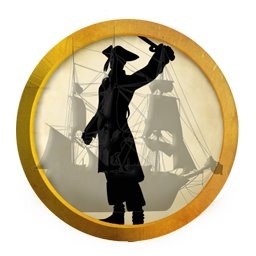 Have you ever wanted to live the pirate's life? If hunting for treasure is something you've always wanted to try, but don't want to get dirty in the process, or have little time on your hands, this game is just for you!
Traveler's Quest is a game which allows you to buy maps, track down virtual treasure in the real world and add it to your virtual collections. The maps are not just part of the game, they belong to other people around you who are also playing the game! That's right, when you bury your treasures, they can be dug up by other players in the game who can then choose to rebury them or hold on to them in their treasure room!

View the Traveler's Quest 2.5 Trailer on YouTube
Traveler's Quest is an awesome casual game that will have you checking for treasures wherever you go, near or far, first every once in a while, then when you wake up, and as you go to bed and any time in between! If you can get there, you can bury a treasure there, and dig one up too! There are no real life treasures to find and put back. The treasures are in game, giving you the ability to collect as many as you want and bury them anywhere.
FEATURES:
Map Room: Holds your treasure detector and maps to treasures you have detected or purchased from the in game store. Using the in game maps and GPS / location services, get as close as you can to a treasure before digging it up and get bonus gold for accuracy!
Collect Treasure: Tap the "X" on the map to see treasure details pop up and tap ">" to collect!
Treasure Room:Keep your collected treasures and maps to your buried treasures safely hidden in your very own treasure room! Buried treasures receive gold interest for each day that a treasure remains safely buried.
Collections: Find every piece in a collection, and receive an extra bonus, plus an achievement! Make sure to keep a spare in your treasure room (unburied) so you keep your completed collection bonus, and your place on the collections leaderboard! Some collections, or pieces of collections can only be found in limited areas around the world too!
In Game Store: Use your earned gold for level upgrades and traps. Use your purchased doubloons, gold, or use an in-app purchase for über detect, enhanced news, bury and hunt radiuses, ships and more!
Ships: Captain your own ship, or join another ship to keep your shipmates from seeing your buried treasures, and to band your scores together on the Ship Leaderboards. Doubloons awarded weekly for the best scoring ships on the sea! *Ships upgrade required to captain or join another ship.
In Game Leaderboards:

Travelers Quest

boasts in-game leader boards based on over all score, gold, treasures, collections and now accuracy. Fight your way to the top by pillaging your friends buried treasures then taunt them in the enhanced news feed which lets them know who stole their treasure! Compare your achievements and scores with your friends, and the world!
News Room: News updates show who has purchased a map to your treasure and how much you earned. News also shows who has pilfered your treasure. Enhanced news upgrade shows you even more information about your maps and treasures others have found including the location and the treasure's level.
World Wide: Play against other players around the corner, or around the world, with players on every continent.
Traveler's Quest will get you off the couch and out of the house, hunting for treasures near by and far away. It's the perfect game to play while you're on the go! Around town or around the world, Traveler's Quest is sure to be a game you come back to play!
Become the richest collector in the world, in Traveler's Quest!
Featured in What's Hot in Games – 2010/01/19 – 01/25
Traveler's Quest™, a rare double nominee and finalist in the 2009 – 2013 BestAppEver Awards, is a new and innovative way to combine a real world treasure hunt, with virtual treasures right on your iPhone!
WHAT THEY'RE SAYING:
"Primary function? This gadget in my hands is first and foremost a Treasure Detector….Oh!…It is also a phone…" — ToMiTa
SOCIALLY SPEAKING:
Facebook: On our Facebook fan page you can talk with other players, play challenges open only to the Facebook community where Upgrade Credits are given to the winners. Upgrade credits can be used to purchase ANY upgrade in the In-App store too!
Adventures in Traveler's Quest: For those who don't like Facebook, we have created our own personal social site. While it's not as active as Facebook, many of the same players visit both locations.
IMPORTANT NOTES:
Traveler's Quest

is made for the iPhone ONLY and WILL NOT install on an iPod Touch or WiFi only iPad.
LOCATION SERVICES:

Location services are handled by your iPhone's GPS and the location service provider embedded in the device. See the

Traveler's Quest

FAQ for more info.
New Features in
Traveler's Quest

version 4.8
iOS 7 Layout Updates: This includes the new iOS 7 maps and standard layout defaults which have changed with the new version. This part was a bit of a challenge and took a long time to get right – we hope you like it!
Sharing Feature update: Share your finds with friends and followers on Facebook and Twitter. Extra doubloons could be awarded during contest periods too! See Facebook page for details.
Uber Updates: Uber maps now have their own dedicated space in the maps list, and will not be deleted when you choose to delete all maps. You can now see a map of ONLY your ubered maps! Check those uber maps again, we now show you which collection the uber is from, and which item number it is, so you can keep better track of those little goodies.
New achievements: We won't spoil the fun, but we have added new achievements to the list – your job is to figure out what they are. Don't forget to follow the clues!
Treasure Cap raised: There is never enough space to keep all of those treasures, so we've raised the cap once again — to the glee of our hoarders and buriers of all alike.