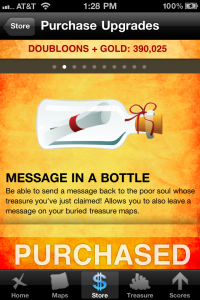 Traveler's Quest 3.0 was just released with a lot of great new features, including Message In A Bottle, our way to send messages between players. Leave a message on your buried treasure map for others to find, or leave a message of thanks for a treasure plundered! The entertainment value for these messages is great – good natured rivalries can now be found in game, for those who have other players near by. You know you'll want to join in the fun, and earn the new achievements that go along with playing with the Message In A Bottle!
In addition to Message In A Bottle, the latest version of Traveler's Quest also boasts international bug fixes which is a huge win for our international players. In addition, there are great updates like:
the ability to buy all the maps from the store at once
news about your gold earnings is now linked to the map of that treasure
reorganized treasure room with treasure groupings added to help you find that treasure much easier!
We have also added quite a few new collections over the last few months. We started out the year with Valentine's Day in February then added Leprechaun in March, Wild Wild West and Easter 2011 in April, and La Resistance and Queen Anne in May. With so many collections to choose from, you will be hunting treasure near and far for a very long time!
We quadrupled our game community during our Free App A Day / Tax Break Weekend promotion gaining many players from around the world, making Traveler's Quest even more fun for players who had very few other players in their area. We know the treasure gnomes help, but there's just something about having other players around you that makes the game more thrilling.
Join our crew on Facebook, and keep up to date on the latest news, information and contests! You don't have to be a member of Facebook to watch the latest news – so what are you waiting for?