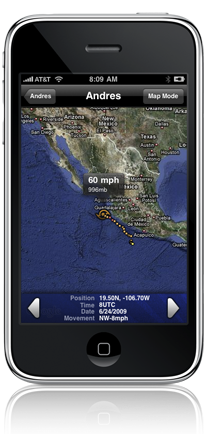 Get information on Hurricane HD™ for the iPad®, or Hurricane™ for the iPhone® and iPod Touch®
Are you looking for just the facts, without the extras of a professional grade hurricane tracker on your iPhone? Created with you the novice in mind, Hurricane Express is a "Lite" version of Hurricane for the iPhone, because really – you just want to know where the storm is, maybe see a satellite or two and if it's on top of you, a friend or family member you want to see the closest radar image to the storm.
Weather enthusiasts will love the features of Hurricane™ for the iPhone, geared more to enthusiasts and professionals alike.
Features
Atlantic and Pacific Basin Interactive Tracking Map with storm data, generated on your device as it becomes available, throughout the hurricane season.
Tracking map that is not just an image, but an interactive tracking map which allows you move between tracks, viewing each plot's detailed information including wind speed with the icon, and lat/lon, speed/direction, pressure, date and time in the tab bar.
Internet Connection required to receive new plots and view new satellite pages and text bulletins.
Each ACTIVE storm has:

Interactive Forecast Cones right on the Tracking Map
Storm Centered Satellite Images
Forecast Image Maps
Tropical Bulletins from the NHC:

Storm Bulletin
Storm Forecast/Advisory
Storm Discussion
Storm Probabilities

Radar (when available/within radar range)

Data Feed which contains:

Generic Satellite Images and animated satellite loops
Tropical Outlooks, Discussions and Summaries produced by the National Hurricane Center
Detailed explanation of the Saffir-Simpson Hurricane Wind Scale.
*Atlantic Basin includes the Atlantic Ocean, Gulf Of Mexico, Caribbean and surrounding areas.
*Northeast Pacific Basin includes the west coast of North America – US west coast, Mexico, Central America and Hawaii
This application is great for:
anyone with interests on the east or west coast of the US
travelers to the Caribbean, Gulf of Mexico and Atlantic Ocean