Traveler's Quest 2.4 finished the Apple approval process today, and is now available on the iTunes App Store. The features in TQ 2.4 sound simple enough:
Doubloon upgrade currency
New Accuracy Leaderboard
Game Center Integration
iPhone 4/Retina Display Images
Redesigned About/Settings page
Doubloons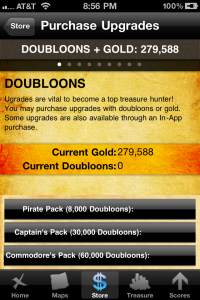 The biggest change with this version is the new upgrade currency called Doubloons. In Traveler's Quest, we have an in game currency called gold. This currency is earned through hard work and effort in the game, burying treasures, receiving gold for purchases of your buried maps, and daily gold income from buried treasures. It takes time, and a lot of treasures to gain a large daily income. This gold can be used to level up your bury, detect or purchase anything in the in-game store. So where do Doubloons come in then? Doubloons are a way to purchase upgrades with real world money. Each Doubloon is equal to 1 gold, which makes it easy to put a gold/doubloon price on each upgrade. The upgrades are listed as costing a certain amount of doubloons, however the reality is that the upgrade uses doubloons first, and then, if you do not have enough doubloons to purchase an item, it will also use gold to purchase an item. This makes the assumption that you would want to use your real world money before using in game gold to purchase an item. When you tap the purchase button, you will receive a pop-up which will show you how many doubloons and how much gold you you will spend on the item you wish to purchase, making it abundantly clear where the "money" is coming from before the purchase is made.
New Accuracy Leaderboard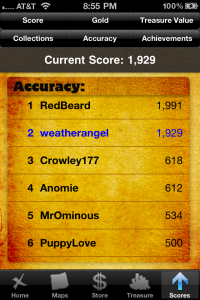 Accuracy is something that most players feel is important. We have listened to the players, and found a way to make accuracy even more important – in the form of a new leaderboard! This new leaderboard encourages players to get as close as possible to the X before picking up the treasure. Players who constantly pick up treasures closer to the 1 mile mark will not rank as high as players who get as close as possible to the X. Players who pick up treasures between 1.5 and 1 mile will find that there is also a negative accuracy, which will take away from their leaderboard score. The accuracy bonus could also be thought of as a sharp shooter bonus.
Game Center Integration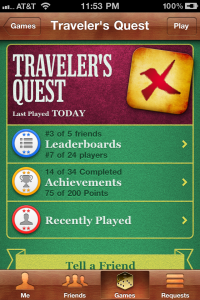 What game is complete without Game Center? Adding Game Center allows us to not only track the leaderboards individually, but also among our friends. You can determine if your friends have finished the same achievements as you, and compare scores more directly between friends. In game, your Game Center achievements can be seen on the Achievements tab. In the Game Center App, you can compare your achievements and leaderboard scores with your friends. See which collections your friends have finished and more!
Retina Display Graphics
Of course with the iPhone 4, the need for retina display images became apparent. While these graphics are not perfect yet, they are a very large step in the right direction. Look forward to seeing more in future updates!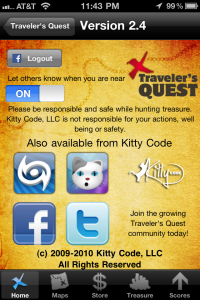 About Page
Our About/Settings/Info page has received some attention this time around, adding links to our Facebook fan page, Twitter feed, Support page, as well as our application pages. The Traveler's Quest logo image even goes to the Traveler's Quest app in the App Store, so you can quickly and easily let everyone know how much you love our humble little game!